Sometimes a full size 16 channel CIF or D1 resolution video recording system just isn't quite enough. There are times you may want a larger, high quality resolution display & recording especially to present as legal evidence.
The 16 channel 960H Security DVR included in the package ensures high quality live viewing and recording that is a 34% increase over standard D1 resolution and 500% of CIF. Coupled with 700TVL high resolution night vision cameras, this premium system offers a larger, sharper, undistorted image with a truer aspect ratio that enhances surveillance. With this 960H surveillance system, you can monitor high traffic areas with confidence in high resolution, and you will know you've picked a top-of-the-line security system at an affordable price.That's when it time to move up to our premium 960H video surveillance system.
Get connected in no time and start using your smart phone, tablet, PC or Mac to connect, view and control your entire system from anywhere in the world.
960H Recording Resolution
960H is a new standard for security DVRs that provides high resolution images at an image size of 960 pixels horizontal and 480 pixels vertical.The DVR offers 960H (960x480) real-time recording on all 16 channels at 30fps.
Higher resolution

960H DVR provides superior images that are 34% larger than D1 and more than 500% larger than CIF.

True aspect ratio

960H creates a wide-screen picture that does not need to be stretched to fit wide-screen TV's and monitors.

Sharper picture

Recording larger images provides a greater amount of image detail. Images are sharper and shows more detail in objects and colors.
700TVL High Resolution Cameras with IR-Cut Built-in
700TVL high resolution cameras allow you to easily distinguish between people, objects and actions.
700TVL high resolution provides clear and accurate video footage both day & night.
Built-in IR-Cut, provides accurate color reproduction in all lighting conditions with crisp and detailed video you can rely on.
24 high-intensity infrared LEDs provide illumination in low-light situations, allows up to 65ft night vision.
See more with a 3.6mm wide angle lens, up to 70 degrees.
Remote Monitoring from Anywhere, Anytime
Keep watch over the things that matter to you most from anywhere at any time, offering you peace of mind at the tip of your fingers.
Compatible Devices: iPhone, iPad, Android.
Compatible Internet Browsers: Mozilla Firefox, Google Chrome,Safari and Internet Explorer.
Mac Compatibility: Users may use Safari & Mozilla to have full video viewing, playback, and full menu functionality. Tested on both Snow Leopard 10.6.8 and Mavericks.
PC Compatibility: Users may use an Internet Explorer browser to have full video viewing, playback, and full menu functionality.
HD Port for High Resolution Viewing
With the HD port, easily display video on any 19" or larger TV or monitor to take full advantage of the security system's clarity. Easily focus on the details. (HD Cable Not Included).
For added convenience, the DVR also comes with VGA and BNC connections for standard resolution viewing options.
More Advanced Features: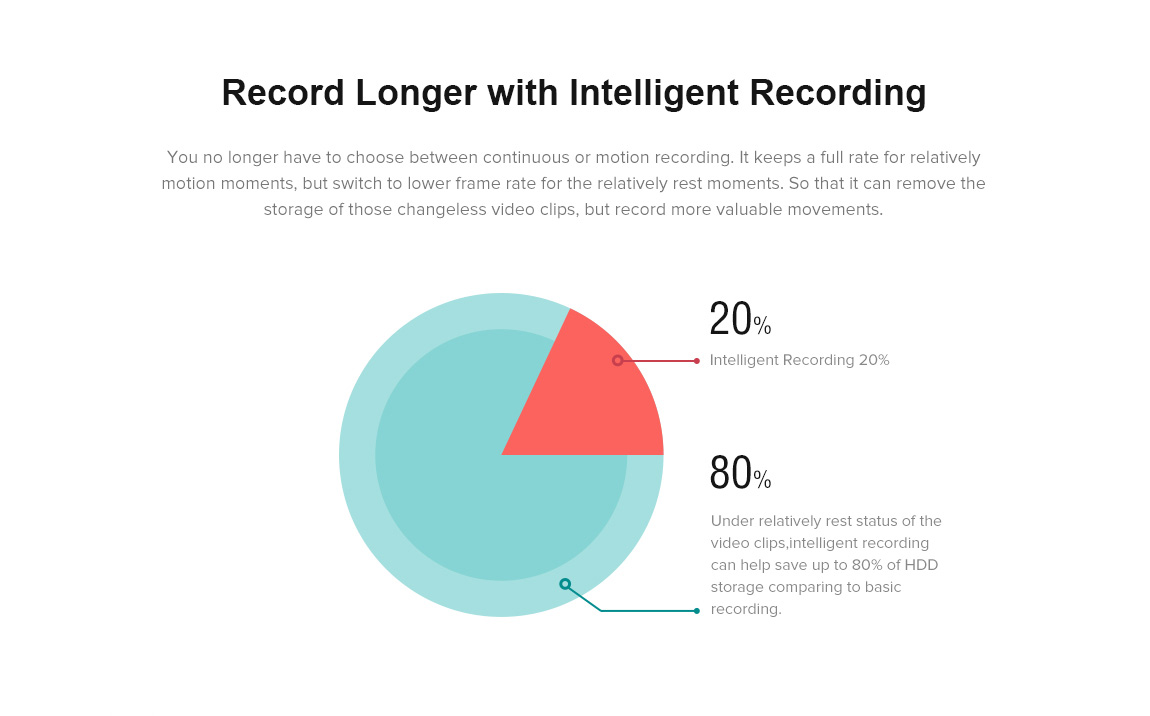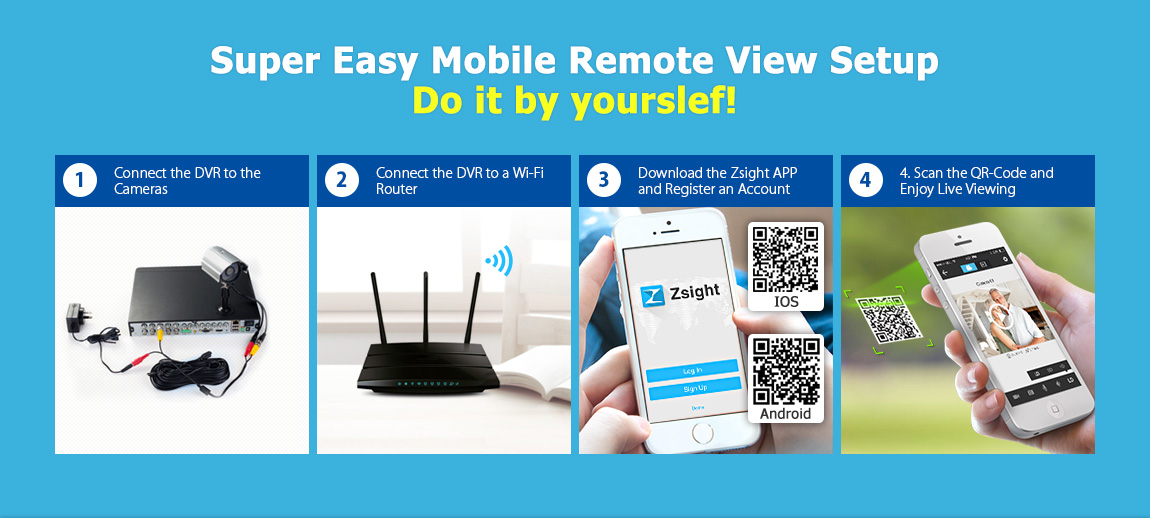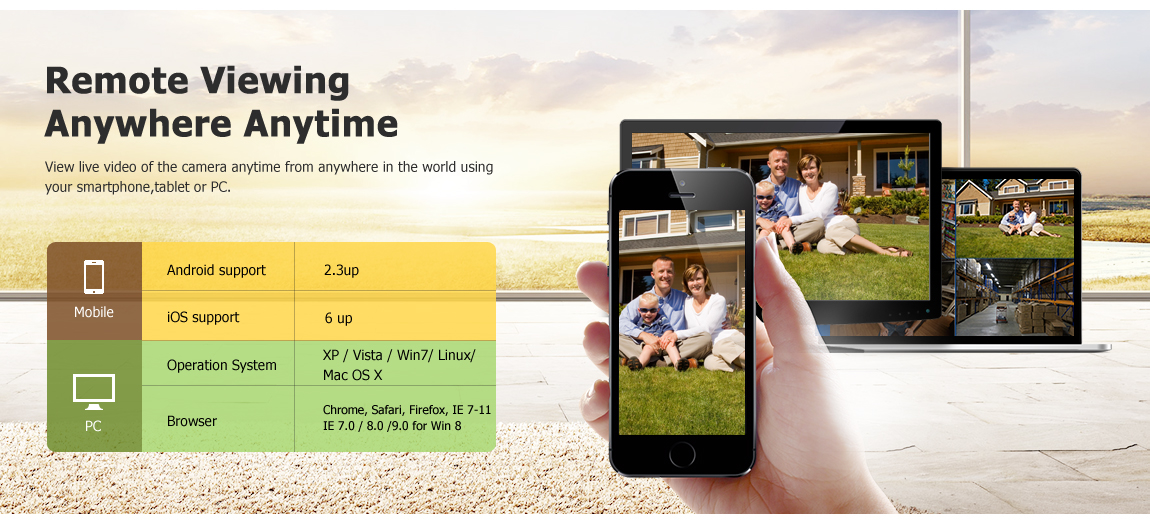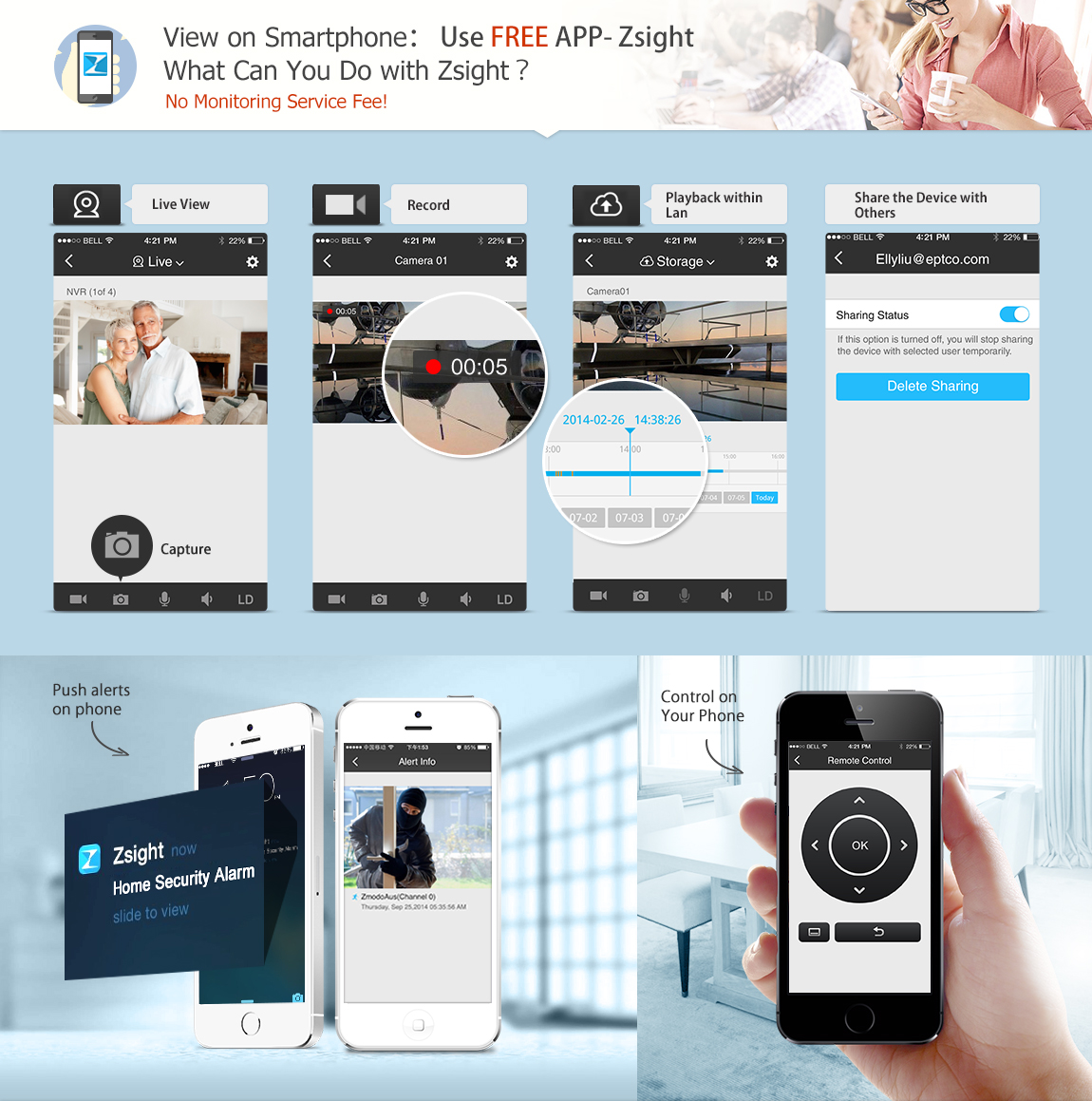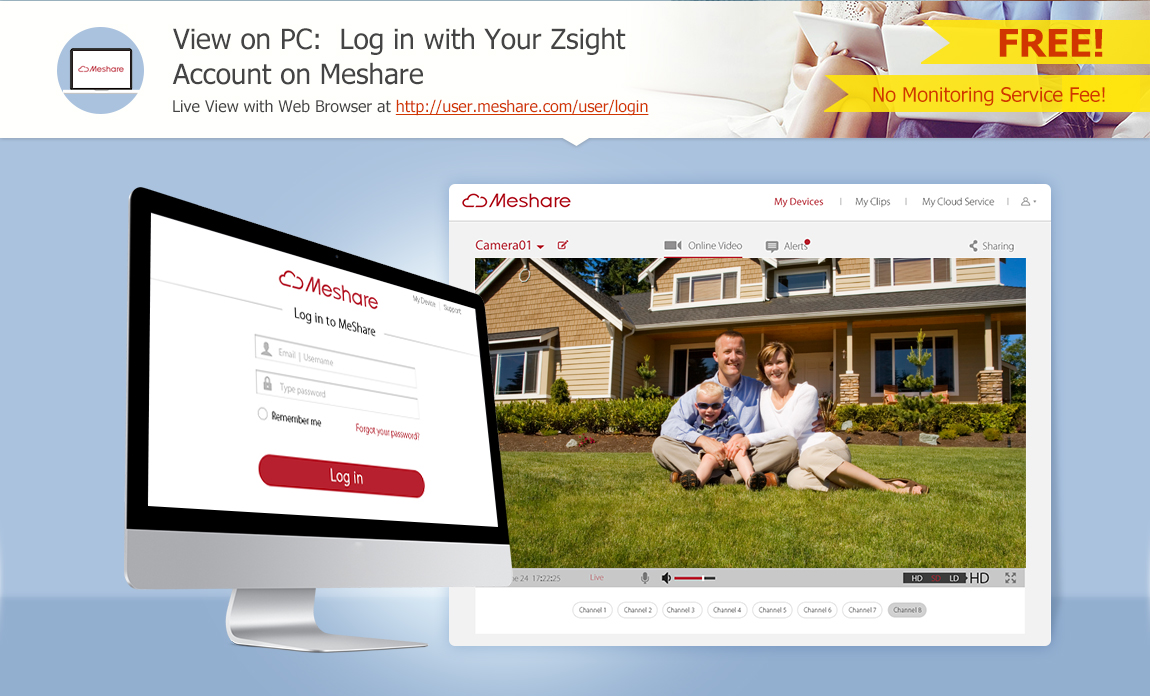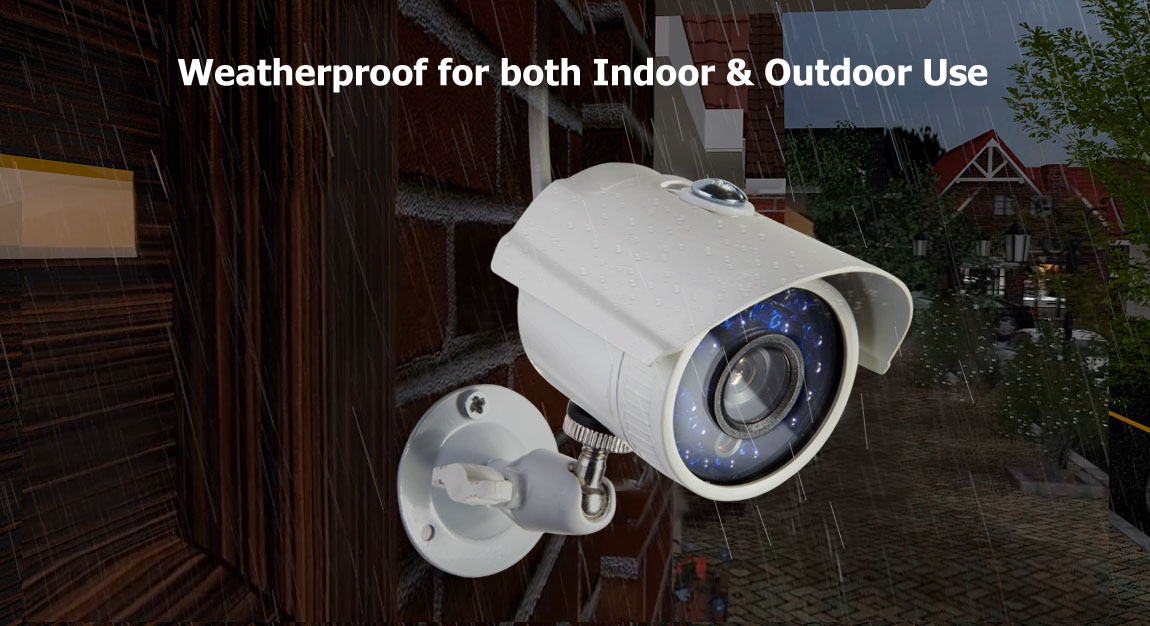 ZMD-DT-SJN6

Video and Audio Input
Analog Video
16-CH, BNC
Audio
16-CH RCA + 1-CH MIC 3.5mm
Video and Audio Codec
Video Compression
H.264
Audio compression
G.711
Frame Rate
NTSC:30fps, PAL:25fps
Multiple stream
Yes
Video resolution
960H, D1, HD1, CIF
System
Application support
IE Viewer / Live Monitoring / Parameter Setting /Recording/ Playback/ Mobile/ Alarm Function
Recording Management
Sync Playback
4-CH
Playback Function
Fast forward / Rewind / Slow play / Digital Zoom
Record mode
Normal Recording / Intelligent Recording / Motion Detected Recording / External Alarm Triggered Recording
Backup
USB devices
Hard Disk Driver
Interface type
3 SATA (3.5")
Capacity
Up to 4TB each
Network
Network interface
1 RJ45 10/100M
Protocol support
TCP/IP, UDP, DNS/DDNS, SMTP, UPNP, DHCP, HTTP, P2P, etc.
Smart phone
iOS 6.0 up, Adroid 2.3 up
Video Detection and Alarm
Motion detection
Yes
Alarm inputs/output
16-CH / 2-CH
Auxiliary Interface
Reset button
Yes
USB interface

3 USB 2.0 (1 Rear, 2 front)

Note: Only the two front USB ports can be used for USB back up, the USB port at REAR Panel can only be connected with USB mouse.

Serial Interface
RS-485 (PTZ Control)
General
Power supply
DC12V, 5A
Power consumption
<12W(Without hard disks)
Operating temperature
−10°C to 50 °C (14°F to 122°F)
Dimensions
15.7in (W) x 12.2in (D) x 2.28in (H)/400mm (W) x310mm (D) x 58mm (H)
Weight
5.77lbs
Language
11 languages
ZMD-DT-SJN6
Video and Audio Input
Analog Video
Zmodo 16 Channel DVR Recorder System 700TVL Surveillance Security
Tillverkare: ZMODO
Artikelnummer: ZM-I6Y6
Tillgänglighet: I lager